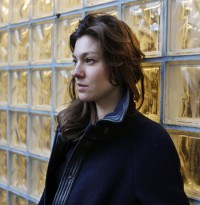 Charlotte Guibé choisit résolument la peinture lorsqu'elle entre à l'Ecole Nationale Supérieure des Beaux-Arts de Paris.
En 2005, année d'échanges culturels entre la France et la Chine, elle a la possibilité, grâce au prix LVMH dont elle est lauréate, de s'installer à Pékin et de s'approprier le plus librement du monde la bâche des chantiers et travaux publics pour y peindre à l'huile.
De son expérimentation de la fluidité de la peinture acrylique, lors d'une résidence en Périgord Noir, nait une série de toiles intitulée La nuit donne à voir. L'art pariétal n'est pas loin.
En 2009, durant son séjour à la Casa Velasquez en tant que membre de l'Académie de France à Madrid, elle découvre l'œuvre d'Ondrej Adamek. En 2012, ils travaillent ensemble et réalisent Le Dîner, un spectacle performatif haut en couleur qui convie douze musiciens autour d'une table et fait interagir les processus de création picturale et musicale, à partir d'une observation de la gestuelle du peintre dans son atelier, celle de Charlotte Guibé en l'occurrence. Il s'agit alors de conjuguer des éléments figuratifs très précis et des textures particulièrement liquides.
Aujourd'hui, Charlotte Guibé peint et enseigne Peinture et Dessin à l'Ecole d'Art de Mâcon (région Bourgogne-Franche Comté). Elle a mis au point une peinture-aquarelle qu'elle réalise à partir de matériaux naturels, sans plastique. Celle-ci est présentée dans des coquillages qui ne sont pas sans rappeler la façon dont les peintres les utilisent depuis la nuit des temps.

STUDIES
2007
ENSBA Studio Dominique Gauthier. Paris
DNSAP (Diplôme National Supérieur d'arts Plastiques) ENSBA. Paris
AWARDS AND SCHOLARSHIPS
2011
Prix Georges Wildenstein, Académie des Beaux Arts, Paris
Residence, Palacio de Quintanar, Segovia
2009-2011
Membre de la section artistique de la Casa de Velázquez, Madrid.
2008
Residence, Yves de la Tour d'Auvergne, thanks to François Dujarric de la Rivière, la fondation Carigest SA, la mairie de Sainte-Alvère, Périgord.
2005
Prix LVMH (Louis Vuitton / Möet Hennessy) Hommage à la Chine, 2005: année de la France en Chine.
SELECTED SOLO AND GROUP EXHIBITIONS
2016
Salon Zürcher. Paris
2015
Comme une présence. Jiali gallery. Beijing.
Charlotte Guibé and Ren Bo Comme une présence. Meridian Space. Beijing.
2014
De vous à moi… Portraits. Galerie Linz. Paris
2013
When was the last time you did something for the first time? Espace des Arts Sans Frontières. Paris
2012
Wan can – dinners. Jiali gallery. Beijing

2011
Artistes de la Casa de Velazquez 2009-2011, Villa Lemot. Nantes
Itinerancia II, Espace Evolution Pierre Cardin. Paris
Itinerancia II, Palacio Ducal de Medinaceli. Soria
Itinerancia II, Circulo de Bellas Artes. Madrid
Museo ABC de dibujo e ilustracion. Madrid

2010

Itinerencia I,Espace Evolution Pierre Cardin. Paris
"18 °: ESTAMPA multiple Contemporary Art Fair". Madrid
Noche en blanco. Madrid

Itinerancia I, Monasterio de Veruela. Zaragoza

Itinerancia I, Palacio Ducal de Medinaceli. Soria

Itinerancia I, Circulo de Bellas Artes. Madrid
Solo exhibition La nuit donne à voir. Orangerie du château de Sucy en Brie

2009
Sept artistes de la Casa de Velazquez illustrent l'ingénieux Hidalgo. Madrid
Curator of the exhibition Nocturne, Presbytère de St Avit de Vialard, thanks to Inna Maaimura, Le Conseil général d'Aquitaine. Dordogne. Périgord
Polaroids. galerie intuiti. Paris
L'imprevu l'accident, based on the text of Walter Benjamin: l'oeuvre d'art à l'ère de sa reproductibilité technique, APONIA – Centre d'art contemporain. Villiers / Marne
2008
Troisième Planète, La générale en Manufacture. Sèvres
53 ° Salon de Montrouge
2007
Première vue, Passage de Retz. Paris
Optical Status, 
Solo exhibition gallery: Périf.net, at 798 Dashanzi art district. Beijing
Plast, La Generale. Paris
2005
Celeste, performances and group exhibitions in the Dashanzi798 studio, shared with Julie Genelin and Praline Le Moult. Beijing
Exposition des lauréats du prix LVMH des jeunes créateurs. Centre culturel de Chine à Paris
2003 – 2005
Novembre à Vitry
FILMOGRAPHY AND WORK WITH…
2012
Le Dîner, a piece of music, gestures and videos, composed by Ondrej Adamek, executed by the ensemble 2E2M, National Conservatory of Paris. France Musique radio broadcasting. See the video on Youtube.
2009
Direction of a short film with composer Michael Nyvang: 
The bell. DV, 22 '
2007
Direction of a short film with composer Michael Nyvang: 
From space with love. (distributed at the festival Musikhost / Music Harvest. Odense. (Denmark).
2006-2007
Documentary, Ma Chine Machine, DV, 50 '. (LVMH)
2005
Short film: Sinoïdoscope DV, 5 '. (LVMH).


COLLECTIONS
Pierre Cardin 2010
Casa de Velázquez, 2009 / 2010
Mairie de Saint-Alvère 2008
François Dujarric De La Rivière 2008


PUBLICATIONS
2015
Comme une présence, Catalogue de l'exposition. 40 pages. ed Jiali Gallery. Français/Chinois. Ambassade de France en Chine, Institut Français, Alliance Française.
2011
Artistes de la Casa de Velazquez. 2011, Français/Espagnol
2010
La nuit donne à voir, catalogue de l'exposition, 22 pages
Visiones del Quijote en la musica del siglo XX, Begona lolo ed.
Centro de Estudios Cervantinos, (inclut le catalogue de l'exposition, Sept artistes de la Casa de Velazquez illustrent l'Ingénieux Hidalgo)
2007
Optical Status, catalogue de l'exposition, Périf.net Gallery Editions, French/English/Chinese
REVIEWS
- Dinners Charlotte Guibe solo exhibition, World Affairs Pictorical. Art, Beijing, November 2012
- Ivre de sons et de peinture, La Terrasse, entretien avec Antoine Pecqueur, January 2012
- Estreno mundial de mi china maquina, Diario de Ibiza, Carmelo Convalia, September 2008
RADIO BROADCAST
Le concert du soir, Radio France, France Musique. May 2012
Surpris par la nuit, rock chinois et montagnes célestes, carnet de voyage en Chine, Radio France, France Culture, Produit par Pascale Charpentier. June 2007